9-28-10D industry supply air fan TurnFloat
Transport Package:
Iron Frame
9-28-10D  Supply air fan TurnFloat 

Product characteristics:
 
       

 

Model

          Air volume 

          Pressure

        

Rotation

speed
 
          Power
 

          9-28-10D

    

 25930 m3/h

          5870 pa

           1450 rpm

   
          

75KW


 
 
*Can be customized according to customer's need.
The main features:
& According to the working condition, the fan can use single or double suction, the backward of circular arc blades impeller has good aerodynamic performance and reliability of smooth operation.
& No3~6 fan is A transmission; No7~18 fan adopts mining, E,Ctype transmission No20, fan adopts B,D,E type transmission.
& No8~20 fan can use double suction fan.
& Transmission part group consists of main shaft, bearing box, rolling bearing, pulley or coupling, etc.
& Fan outlet standards into soft connection and compound type damping spring shock absorber etc.
& Fan can provide air inlet damper cleaning nozzle, bearing temperature measuring vibration sensor, impeller and other options to choose from.
& Inlet and outlet flexible joints, dampers.
& Inlet valve, bearing temperature and vibration dective sensers, impeller cleaning nozzle are optional.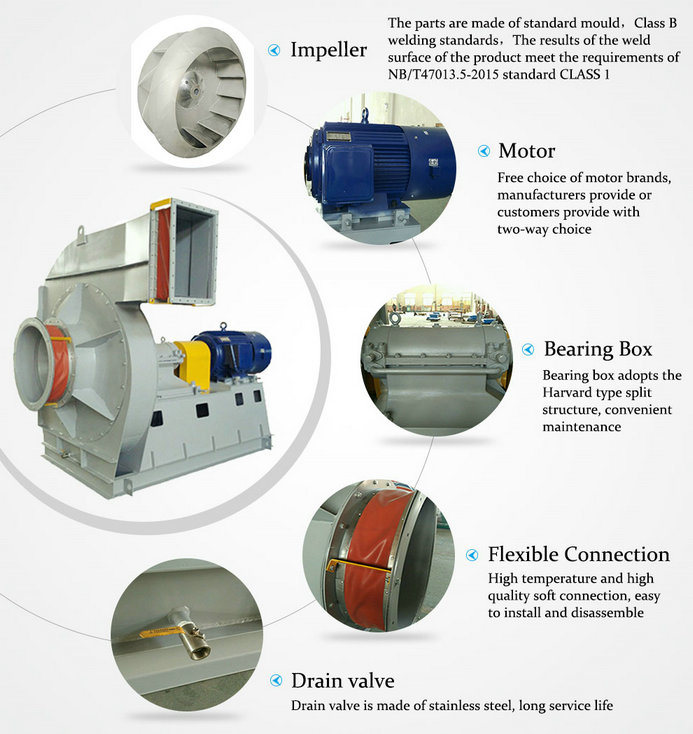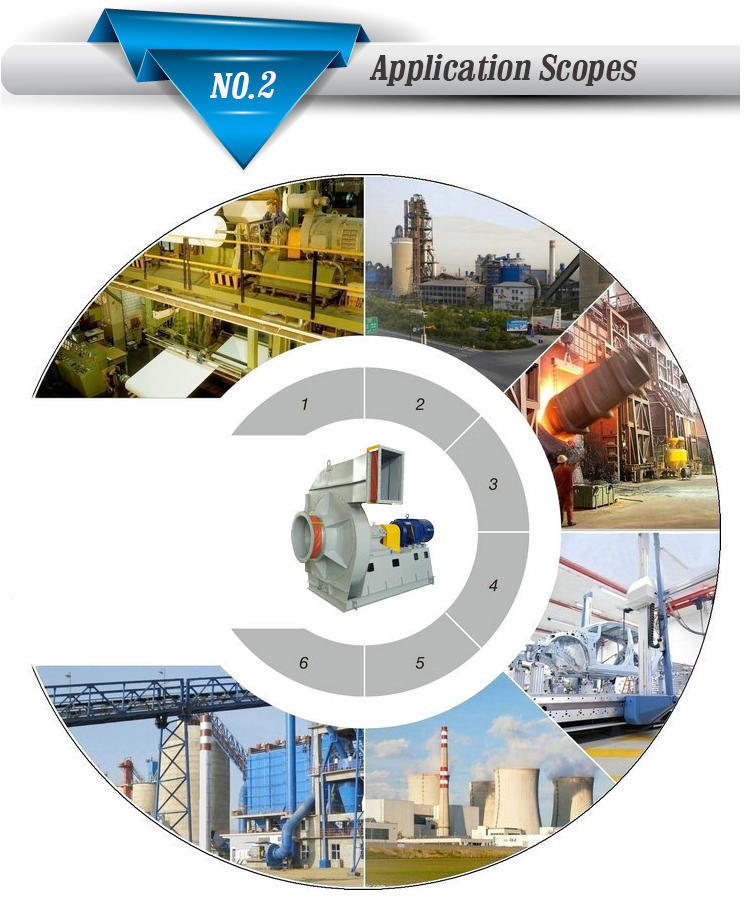 NO.
1 Pulp and paper industry                            NO.4 The coating industry
         NO.2  The cement industry                                  NO.5 The chemical industry
         NO.3   The iron and steel industry                       NO.6 Dust removal industry
This product is used in industrial and civil paper industry,cement industry,steel industry,coating industry,chemical industry, dust removal industry, and other fields,we can also provide design,equipment manufacture and the hvac equipment maintenance and maintenance work.
& Suitable for workshop and large building indoor exhausting.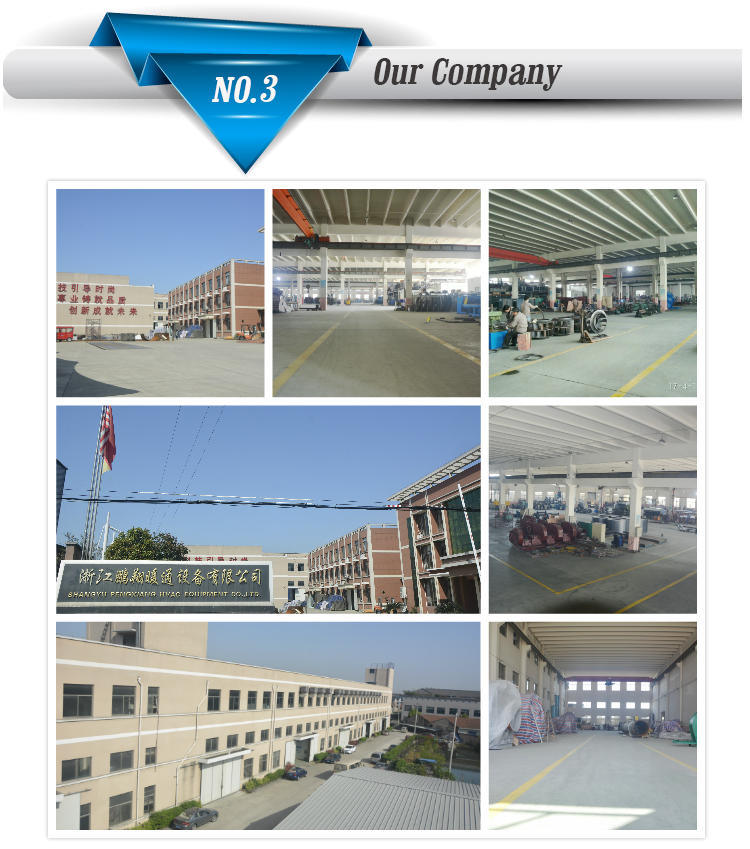 Zhejiang Pengxiang HVAC Equipment Co.,Itd
is a professional company focusing on advance solution,R&D,manufacturing and sales.R&D has a cooperation with Shanghai Jiaotong University.
We can perform fan performance test for range of 220mm~2800mm impellers' centrifugal and axial fans,the indexes include flow volume,pressure,noise,vibration,rotation speed,current etc.Pengxiang's products are used for paper process exhausting, workshop exhausting, coating production line exhausting,chemical production line exhausting,dust removal machines,chemical machines.The products cover high pressure,medium pressure and low pressure centrifugal fans,induced draft fan,boiler fans, low noise heat unit, low noise cabinet centrifugal fans,industrial axial fans, mixed flow fans and silencers.OEM for famous international companies, and exported to USA, Japan, Russia,Indonesia,Vietnam, Thailand and Singapore.
Pengxiang always consider products innovation,high efficiency,low noise,energy saving,safely operation as company's motivation and target.Pengxiang has many key"utility model patents"application and used in practical.Meanwhile Pengxiang got the technological innovation-based enterprises special allowance from Zhejiang Province.
Pengxiang will provide good presale service,qualified manufacturing and quick aftersales service to serve our customers.Go forward  with  customers and fighting  for with customers and fighting for "high standard design,fine management and zero defect products" as our target.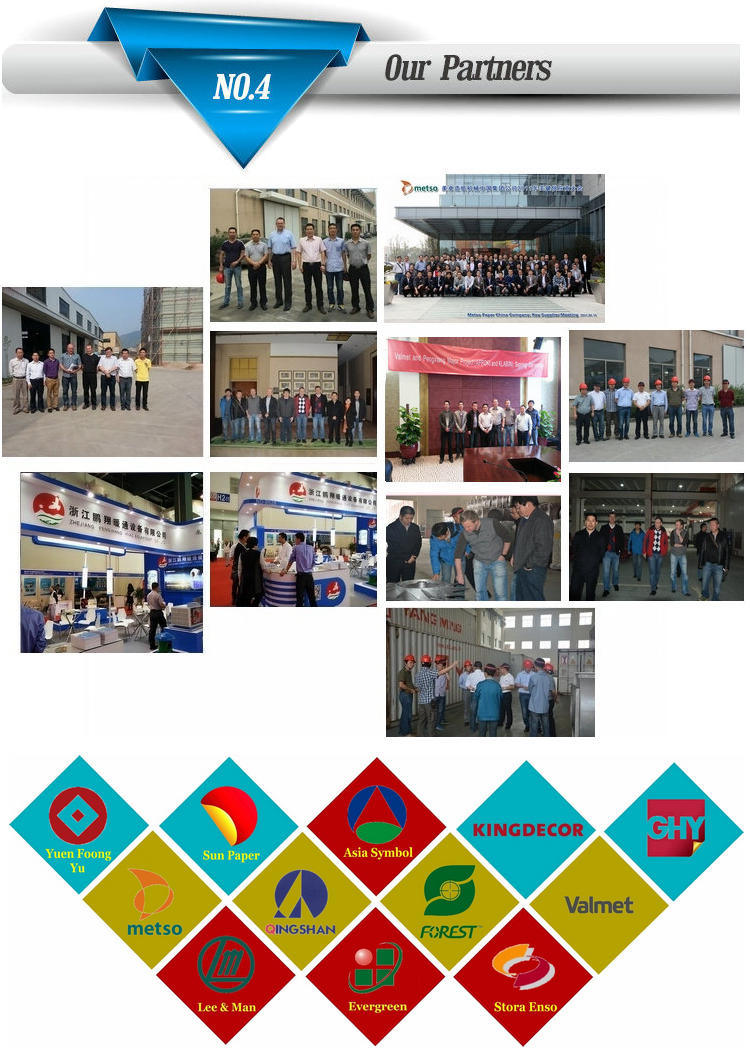 Yuen Foong Yu Paper (YangZhou) CO.,LTD.           ShanDong Jungle Group Co.,Ltd.       
FuJian LianSheng Paper Industry Co.,Ltd. Â  Â  Â  Â  Â  Â  Â  Â Southem China United Cement Co.,Ltd.
Metso HYOGOPDL Project in Japer                       Jiangxi Evergreen Cement Co.,Ltd.
Metso PM6 Project in Lee&Man                            Zhejiang JingXing Paper Joint Stock Co.,Ltd.
Metso GUAIBA Project in Brazil                            Stora Enso (Guangxi) Packaging Co.,Ltd.
WuXi Westtech Vent Machinery Co.,Ltd. Â  Â  Â  Â  Â  Â  Â  Â Taizhou Forest Papermaking Co.,Ltd.
ZheJiang HuaYu Paper Co.,Ltd. Â  Â  Â  Â  Â  Â  Â  Â  Â  Â  Â  Â  Â  Â  Â Valmet OKI Project In Indonesia
Zibo Ou-Mu Special Paper Co.,Ltd                         Valmet KALABIN Project In Brazil
Yunnan Yunjing Forestry & Pulp Co.,Ltd. Â  Â  Â  Â  Â  Â  Â  Â Valmet Alabama Project In America
HeNan LongYuan Wove Paper Co.,Ltd.                   Double A(Jiangsu)Paper Co.,Ltd               
WuHan Golden Phoenix Co.,Ltd. Â  Â  Â  Â  Â  Â  Â  Â  Â  Â  Â  Â  Â  Â Â Asia Symbol China Holdings Ltd.
Kingdecor(ZheJiang) Co., Ltd. Â  Â  Â  Â  Â  Â  Â  Â  Â  Â  Â  Â  Â  Â  Â  Â Â TM System(China) Air Technology Co.,Ltd.
Tianjin 707 Hi-Tech Co.,Ltd                                    Fujian QingShan Paper Industry Co.,Ltd.
Desan Chemisty (Zhejiang )Co.,Ltd                          YueYang Forest & Paper Co.,Ltd.
Shandong BoHui Paper Co.,Ltd. Â  Â  Â  Â  Â  Â  Â  Â  Â  Â  Â  Â  Â  Â  Â Â Nine Dragons Paper(ShengYang) Co.,Ltd.
ZheJiang Cenway New Synthetic Materials Co.,Ltd.
Sunnsy Group Shandong Dongchang Cement Co.,Ltd.
Guangdong Beilun Household Paper Industrial Co.,Ltd.
ShangDong Sun Paper Industry Joint Stock Co.,Ltd.
ChongQing Lee & Man Tissue Manufacturing Limited
Gold Hong Ye JiangSu

,

WuHan

,

SuiNing Project
Allimand Machinery Equipment(Shanghai) Co.,Ltd
Industrial Slicing Machine,Industrial Slicing Machines,The Industrial Slicing Machine,Sulfur Slicing Machine
Wuxi Mingyan Equipment Co., Ltd , https://www.wxmygroup.com