China Songgang Fiber Laser Etchings Marking Machine
Laser Classification:
Semiconductor Laser
Engraving Method:
Vector Engraving
Engraving Machine Type:
Laser Engraving Machine
Power:
10watt, 20watt, 30watt
Transport Package:
Wooden Box
China Songgang Fiber Laser Etchings Marking Machine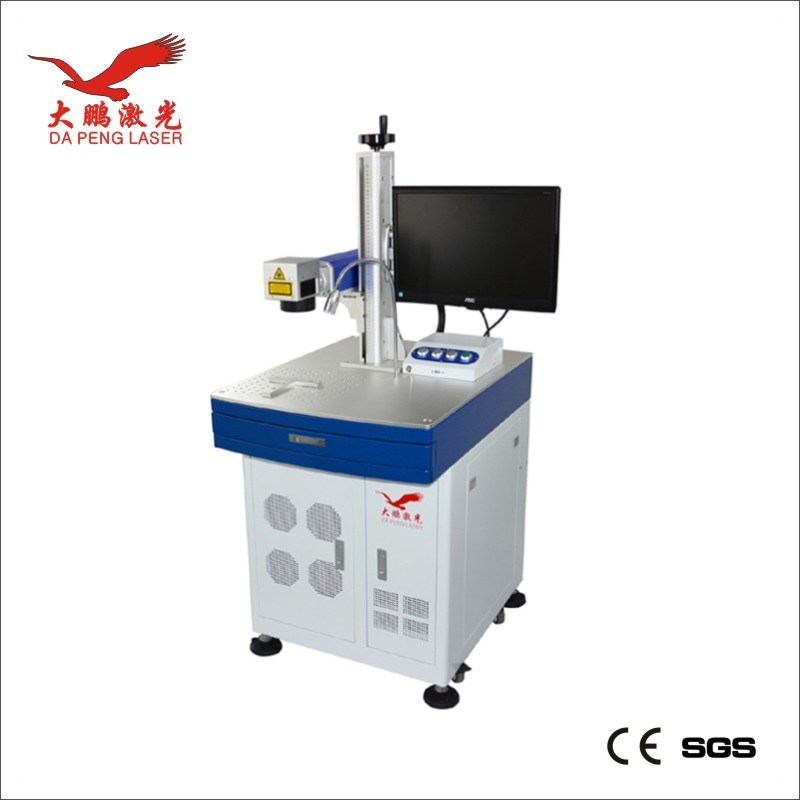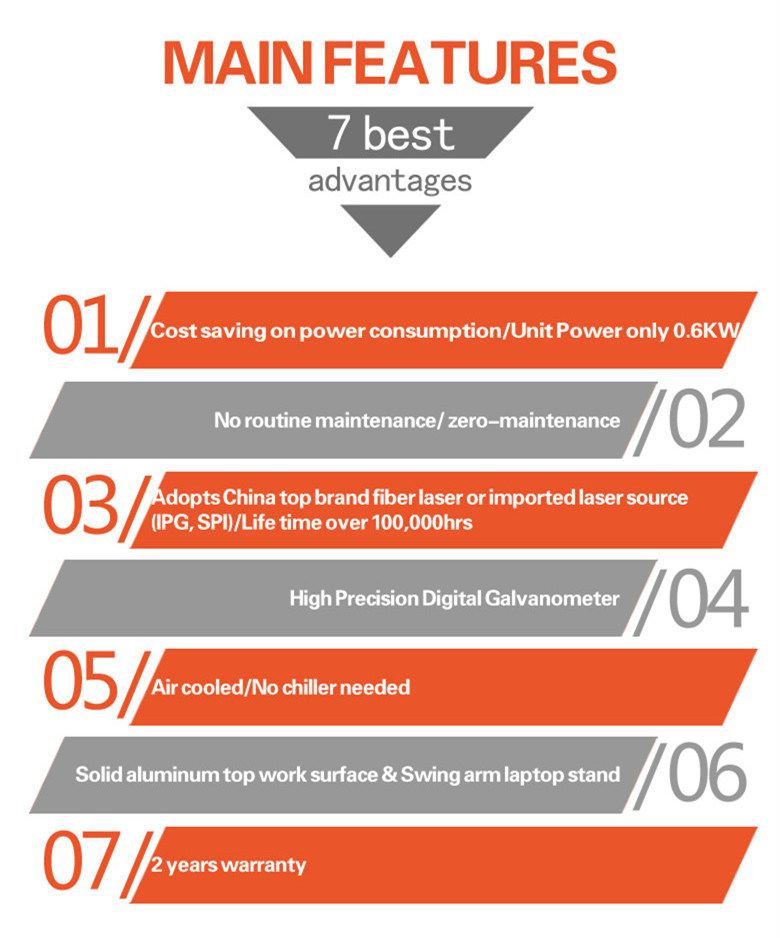 Dapeng Laser's marking machine is manufactured from a modular aluminum structural framing system. The high-strength aluminum profiles provide the stability of an optical instrument with the rigidity and durability of a machine tool.
 
The  YLP series Fiber Laser Marking Machine adopts superior quality fiber laser and high precison digital scan head to enable stable output and high quality laser mode. Fiber laser marking machine can meet the demand of mass production with fast marking speed,good marking effect and high efficiency.
 
Features:
| | | |
| --- | --- | --- |
| Easy to Use Automation Features | Sharp, High Contrast, Impact Free | High Speed Galvo Steering |
| Compact & Fast Set-Up | 100,000 Hrs Laser Lifetime | 2 Year Warranty |
| Turnkey System | Permanant Marking | Air Cooled/No Chiller needed |
| Tunable Pulse Rate | No routine maintenance/No Consumable | Digital I/O for Easy Operation |
| Red Aiming Pointer/No more mistakes | Solid Aluminum Top Work Surface & Swing Arm Laptop Stand | Portable Tabletop Units to Automated Production Systems Available |
 
Specifications:
 
| | |
| --- | --- |
| Model    | YLP-F10/20/30 |
| Laser Power: | 10W,20W,30W |
| Wavelenth: | 1064nm |
| Standard Marking Area: | 100mm*100mm |
| Optional Marking Area: | 160mm*160mm,200mm*200mm |
| Marking Speed: | ≤7000mm/s |
| Minimum Line Width | 0.02mm |
| Minimum letter | English: 0.2 x 0.2mm |
| Marking Depth | 0 ~0.5mm |
| Location precision | ≤0.01mm |
| Resetting positioning accuracy | 0.002 |
| Beam Quality | M2:1.2~1.8 |
| Electrical Requirements: | Ac220V±10%.50HZ.5Amp |
| Cooling mode | Air cooled |
| Scan Head | High Precision Digital Scan Head |
| Unit Power | <0.5kw |
| Operational Temp Range | 10-40C |
| Operational Humidity Range | 5%-75%, Non-condensing |
| Warranty: | 2 years on laser source |
| Dimensions: | 25*60*80MM |
| Net Weight | 38KG |
 
 
Software:
| | | |
| --- | --- | --- |
| True Type Fonts | Single Stroke Fonts | Elliptical Text |
| Sequential Serial Numbers | Customizable Auto Dating | Barcodes |
| QR Codes and Data Matrix | UID Wizard | Logos |
| Photo Quality Images - JPG, TIF, GIF | Corel Draw, Adobe Illustrator | Raster Graphics |
| Vector Graphics | CAD Files | Â  |
 
 
Applications:
 
We offer Fiber Laser Marking Machine with following applications:
l         Laser marking of metal & non-metal material and products: Stainless steel, gold, silver, copper, aluminium alloy, hardware, tools, acrylic, ceramics, plastics, organics, thermo-elastomer rubbers, paper and others
l         Hall marking on Gold
l         Automotive & Engineering Industries
l         Electronic industry: Capacitor, inductor, PCB, IC, connector, control panel and other  instruments
l         Others: Cosmetics, food package, bottle, gift, advertisement & sign crafts, craft & gift making
 
We also provides laser sources and spare parts to the laser machine manufacturers in China and surrounding countries.
 
Materials:
| | | |
| --- | --- | --- |
| Stainless Steel | Steel | Aluminum, Carbide |
| Nickel | Titanium | Cast Iron |
| Chrome | Painted Metal Alloys | Multi-Coated Metals |
| Plastics/Rubber | Backlit Buttons | Polycarbonate |
| PVC | Composites | Many more materials |
Marking Samples: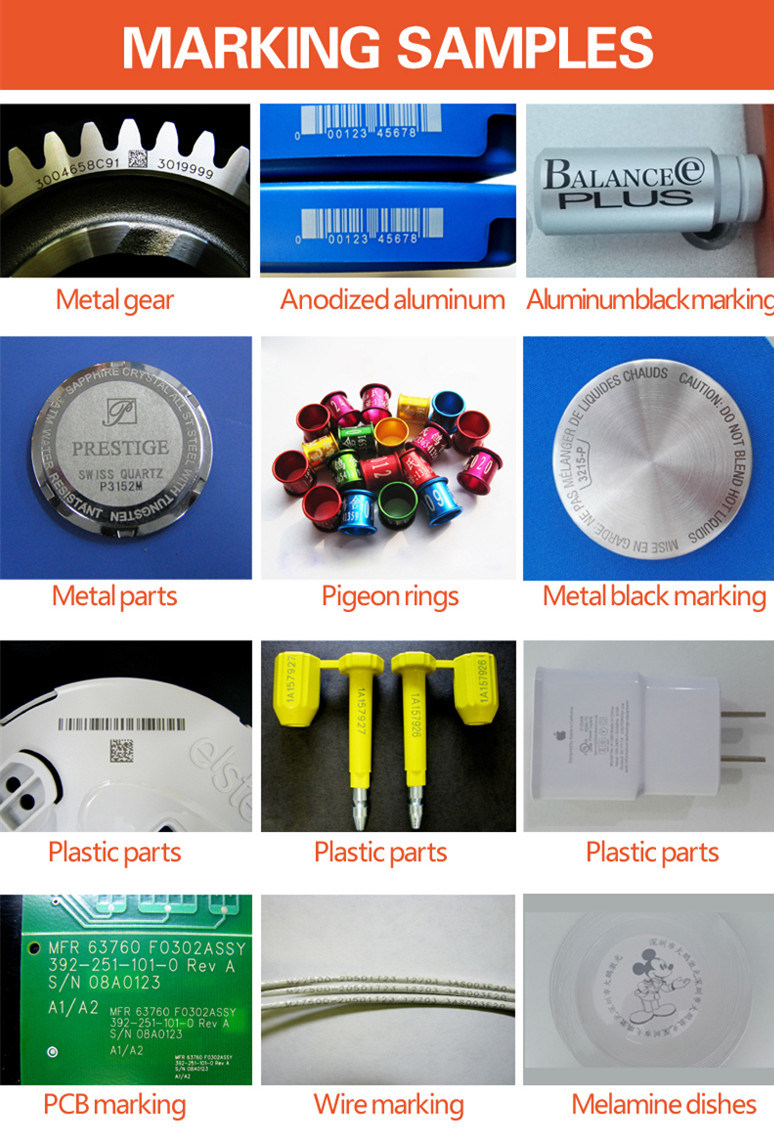 Company profile
Founded in 2005, Shenzhen Dapeng Laser Technology Limited is the market leader in developing, manufacturing and

servicing products and systems for laser marking
, laser welding, laser cutting and engraving. The company provides

equipment to a wide range of markets including medical industries, jewelry, automotive, aerospace, military,

semiconductor and solar industries as well as the battery, electric vehicle, electronics and general industrial markets.

With a decade of cumulative laser equipment design and manufacturing expertise, Dapeng Laser is able to offer standard

and custom designs that solve challenging OEM applications. Dapeng Laser is CE and FDA certified. Our laser marker

systems are highly precise, most reliable, and cost-effective. We have sold over thousands of systems worldwide for last

10 years. Our products can be found in Europe, America, Russia, India, Vietnam, Thailand, Indonesia, Egypt, Brazil,

Colombia, and South Africa, among others. 

Since our inception, customer support has been a top priority and that standard still remains today. We hope that we will

have a chance to give you a great laser solution with Dapeng Laser products. 

Our mission is to be a full service provider of industrial laser equipment that emphasize the quality, reliability, safety, cost

effectiveness, and technical support.
China. Last year 2016 we sold more than 5000sets of laser systems, about 80% are sold in domestic market, and others

we sold to America, Spain, Poland, India, Egypt and many other countries.
 
Made-in-china Homepage-Â http://dplaser.en.made-in-china.com/Â 
 
FacebookPage-Â https://www.facebook.com/shenzhendapeng/Â 
 
 
polyken 980 is our T100, 955-25 is equivalent for our T200,means outer protection tape, is engineered to achieve a complete bo1nd to the inner layer tape, providing maximum handling and in-service protection for the coating system
The Polyken 980,955 is a multilayer system used for the protection of steel pipelines. Polyken 1019,1027,1033A or
1039 Liquid Adhesives can be used as primers for this system.In addition to serving as primers, these liquid
adhesives themselves represent an anticorrosion layer and provide a uniformly smooth contact surface to promote
high adhesion of the coating system to the pipe. They are designed for machine or brush application and formulated
with stress-corrosion cracking inhibitors. The Anti-Corrosion layer Polyken #980 is engineered to assure a high bond
to the primed surface with excellent conformability characteristics. The mechanical protection layer Polyken #955,
achieves a complete bond to the #980 inner layer, providing maximum handling and in-service protection for the
coating system. The adhesives in these and all
Polyken Tape
systems contain proven anti-microbial additives.
The Polyken 980/955 can also be used for ductile iron pipes, in this case the use of 1027 primer is recommended
polyken 980, polyken955, polyken 930,polyken 942 tape
Jining Xunda Pipe Coating Material Co.,Ltd , https://www.alta-altene.com