National Machine Luojian LSS327: China's largest tonnage mechanical single drum vibratory roller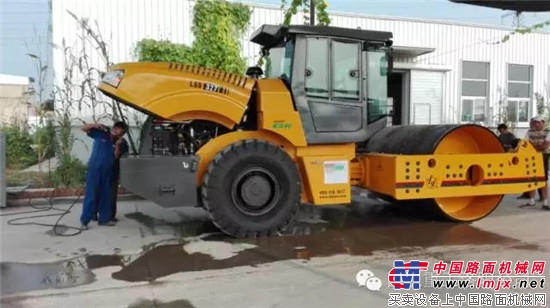 [Classic heritage value model]
LSS327 is a super-heavy vibratory roller. It is mainly suitable for the compaction of non-viscous materials such as gravel, gravel, sand and gravel mixture, sandy soil and rock fill in foundation layer, sub-base layer and filling project. Ideal compaction equipment for roads, railways, airports, ports, dams and industrial sites. LSS327 inherits the gas-assisted power shift, variable speed rotation, one-shot operation, air-stop parking brake, safety and reliability of China's largest tonnage mechanical single-wheel vibratory roller LSS2702-2. In addition, the machine is equipped with three countries. Emission of low-speed, low-energy, water-cooled supercharged engine to improve environmental protection, four-valve + high-pressure technology + dedicated configuration and performance, fuel consumption reduction of 5-10%, digital software control, can achieve a variety of linkage systems to ensure reliable transmission clutch Degree and increase life expectancy. The pressure water tank and the anti-UV cab are spacious, comfortable and have a good view. They have good dustproof, heat-dissipating and cold-starting functions. They have a high-pressure tire inflator to achieve on-site tire inflation. The new patented vibrating wheel design extends the vibration wheel. The service life improves the performance of the whole machine. The new articulated frame design improves the connection strength of the front and rear frames and makes the roller drive more stable.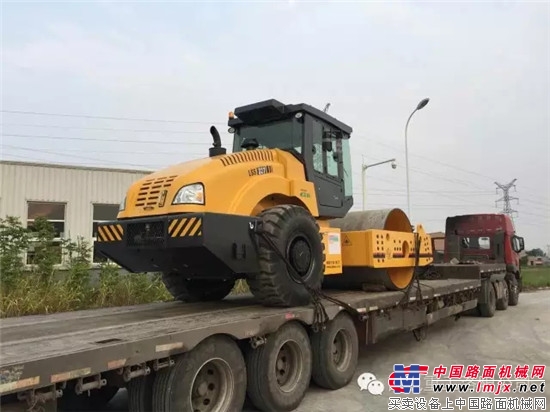 [Drive vibration system best match]
The hydraulic drive system and the variable frequency variable amplitude vibration system ensure that the roller has good driving and compacting performance and higher working efficiency. The vibrating wheel adopts unique web double-sided welding technology and damping luffing mechanism, damping control technology, one reduces the hydraulic impact of the vibration system and the reliability of the system; the second achieves smooth start and stop vibration, avoiding the right The impact of compacted materials. The front and rear wheels achieve a 1:1 ratio, which improves the uniformity of compaction.
[Multiple brakes are safe and reliable]
The service brake is a hydraulic brake and an oil-pushing disc brake. The parking brake and the emergency brake are unpowered brakes, which can be automatically realized immediately when the engine is turned off or when the oil is cut off, and can also be braked by the start switch operation, which is safe and reliable.
[Humanized design, beautiful appearance, comfortable operation]
The "people-oriented" design idea runs through the whole car: the new appearance, the rear cover is made of non-metallic material streamlined design; the hood can be opened as a whole, the personnel can access the machine without barriers, and it is convenient for maintenance work; the cab is a curved windshield, Spacious and comfortable, good view; seat design conforming to "ergonomics principle", three-stage shock absorption, comfortable ride; electronic monitoring of the whole machine instrument for easy operation and fault diagnosis; standard configuration centralized lubrication system, convenient for road roller Maintenance and maintenance of the whole machine.
(This article comes from Guoyang Luoyang)
Types of plate heat exchangers

There are four main types of plate heat exchangers:

Gasketed plate heat exchangers use high quality gaskets and design to seal plates together and protect against leaks. Plates can easily be removed for cleaning, expansion, or replacing purposes, drastically reducing maintenance costs.
Brazed Plate heat exchangers are used in many industrial and refrigeration applications. Due to stainless steel plate composition with copper brazing, they are highly resistant to corrosion. Brazed Plate heat exchangers are efficient and compact, making them an excellent economic choice.
Welded plate heat exchangers are similar to Gasketed plate heat exchangers, but instead the plates are welded together. They are extremely durable, and are ideal for transferring fluids with high temperatures or corrosive materials. Since the plates are welded together, mechanical cleaning of plates is not an option as with Plate And Frame Heat Exchangers.
Semi-Welded plate heat exchangers feature a mixture of welded and gasketed plates. They contain pairs of two plates welded together which are then gasketed to Other pairs, therefore one fluid path is welded and the other fluid path is gasketed. This results in a Plate Heat Exchanger that is easy to service on one side and able to transfer more intense fluids on the other. Semi-Welded heat exchangers are perfect for transferring expensive materials since they have a very low risk of fluid loss.


Quality spare parts and cost effective, reliable service for plate heat exchangers worldwide

LianJiu offer a wide range of top quality gaskets for most plate heat exchangers, as well as high quality plates.

LianJiu is also specialized in servicing all makes of plate heat exchangers. For example Alfa-Laval, APV, Cetetherm, Pasilac, Tranter, Hisaka, Fischer, Schmidt-Bretten, Vicarb, GEA, ReHeat and Swep.

Swep Plate,Ss304 Heat Exchanger Plate,M30 Plate For Heat Exchanger,304 Steel Heat Exchanger Plate
Liaoning LotusNine International Trade co.,ltd , https://www.lj-heatexchangers.com