127.45.00 Desert Air Filter Bracket Assembly 12vb. 45.00A Desert Air Filter Bracket Assembly
Model of genset

Model of engine

Rated Power

(

KW/KVA)

Rated Voltage

(

V)

Rated Frequency(HZ)

Overall Dimension L

*

B

*

H

(

mm)

Net weigh

(

KG

)

Fuel

 

700GF-TK2

A12V190ZLT-2

700/875

400/230

50

5620*2180*2520

16000

natural gas

 

800GF-W

AD12V190ZLW-2

800/1000

400/230

50

7040*2335*2520

20200

coal mine gas

 

1000GF-NK

AD12V190ZLZ

1000/1250

400/230

50

5375*2312*2776.5

16500

biogas

 

1000GF-TK1

AD12V190ZLT1

1000/1250

400/230

50

5375*2312*2776.5

16500

natural gas

 

1000GF-TK2

AD12V190ZLT2

1000/1250

400/230

50

5375*2312*2776.5

16500

natural gas

 

1000GFZ-TK2

AD12V190ZLT3

1000/1250

400/230

50

5375*2312*2776.5

16500

natural gas

 

1000GF-T

AD12V190ZLT2

1000/1250

400/230

50

6660*2335*2520

19800

natural gas

 

1000GF-T3

AD12V190ZLT2

1000/1250

400/230

50

6660*2335*2520

19800

natural gas

 

1000GF-T4

AD12V190ZLT2

1000/1250

400/230

50

6660*2335*2520

19800

natural gas

 

1100GF-WK

H16V190ZLW-2

1100/1375

400/230

50

5920*2180*2200

17200

coal mine gas

 

Main specification for gas engines

 
 

Model

Rated Power

(

KW)

Rated Speed

(

r/min)

Compression ratio

Specific heat consumption

(

kj/kw.h)

Specific oil consumption

(

g/kw.h)

Overall Dimension L

*

B

*

H

(

mm)

Net weigh

(

KG

)

FUEL

AD12V190ZLT1

1100

1500

12:01

≤11000

≤1.6

2979*2312*2471

9300

natural gas

AD12V190ZLT2

1100

1500

10:01

≤9500

≤1.0

2979*2312*2471

9300

natural gas

AD12V190ZLT3

1100

1500

10:01

≤9500

≤1.0

2979*2312*2471

9300

natural gas

AD12V190ZLW-2

900

1000

10:01

≤9500

≤1.0

2979*2312*2471

9300

coal mine gas 

H12V190ZLT

1500

1500

12:01

≤9500

≤1.0

3830*1792*2315

9300

natural gas

H16V190ZLT-2

1200

1000

10:01

≤9500

≤1.0

3692*2516*2405

13000

natural gas

H16V190ZLW-2

1200

1000

10:01

≤9500

≤1.0

3692*2516*2405

13000

natural gas

Main technical data

 
 
 
 
 
 
 
 

No. and arrangement of cylinders:12,60

.

Vee

 
 
 
 
 
 
 
 

Type:Four stroke,water cooled,turbocharged and aftercooled,direct injection

 
 
 
 
 
 
 
 

Bore:190mm

 
 
 
 
 
 
 
 

Stroke:215mm

 
 
 
 
 
 
 
 

Compression ration:14:1

 
 
 
 
 
 
 
 

Direction of rotation:Counter-clockwise engine(facing to flywheel)

 
 
 
 
 
 
 
 

Starting method:electric motor

 
 
 
 
 
 
 
 

Lubricating method:Pressure and splash lubrication

 
 
 
 
 
 
 
 

Stable speed regulating rate:0-5%adjustable

 
 
 
 
 
 
 
 
Jinan Guohua Green Power Equipment Co.,Ltd(JNGH),

is a high-tech sales &service company of Jinan Diesel Engine Co., Ltd. Established in 2010,JNGH has formed a complete system in sales and after-sales of 190 series engine(jichai brand:6L190,8V190,12V190.16V190)

 
Main business scope:
Early stage:Consultation,designation, supply and erection

 

of engine-based power plants,including diesel generator,natural gas generator,coal gas generator and biogas generator.
Mid stage:Parts supply of jinan diesel engine(jichai/chidong brand).JNGH has two warehouses.One located in Jinan which supply the domestic north and south market.One located in Xinjiang province which supply the west market.Thus could delivery parts fast and guarantee the quality.
Later stage:JNGH also offer engine overhaul and maintenance service.With experienced engineer and professional skills,the problems could be easy solved.Not only the domestic China,Ghana,Kazakhstan,Vietnam and Myanmar also could see the trace of JNGH.
Later stage:Overhaul and maintenance service offered.

Water Pump Assembly
Water pump assembly 129.22.00B,water pump assembly 206L.22.00 water pump assembly 206LR.22.00,jichai water pump assembly 208L.22.00,water pump assembly 6312.22.00,water pump assembly 6612AR.22.00,jichai water pump assembly 816LCT.22.00,chidong water pump assembly B3012H.22.00 jinan diesel engine water pump assembly 511.22.00A jichai water pump assembly marine engine 225.22H.00,water pump assembly 223.22.00,jinan diesel engine water pump assembly 223.22.00,12V190 engine water pump 224L.22.00A,water pump assembly 225.22.00,12V190 diesel engine water pump 226L.22.00,12V190 marine engine water pump 236L.22.00,jichai marine engine water  pump 264L.22.00A water pump assembly 266L.22.00,water pump assembly 274L.22.00,jinan diesel engine 12V190 engine parts 276L.22.00,water pump assembly 3012.22.00,16V190 diesel generator parts 4012.22.00.
JICHAI 6190Â oil pump,jichai instrument panel assembly,jichai water pump.
2012.32.00jichai 12v190Â instrument panel assembly 2008.32.00Â jinan diesel engine 206LZ.32.00Â chidong 8190Â instrument panel assembly 208LB1.32.00Â jichai ED211G
2012H1.32D.00 G12V190ZLC1Â diesel engine 206L.32.00Â 
corrugated pipe sub assy 206L.09.10,cylinder head gasket 206L.01.31,dynamo chargerJF.1000N,fuel return pipe /leak pipe 12VB.14.30.10,Belektric fuel pre-supply pump355.54.00,cylinder liner511.01.51A,digital control panel monitor YD908-8L,seal gasket 12VB.01.146,compresion ring sets12VB.05.09B-6Jwater pump using gear206L.22.00,star buttonTLA-2(24V-45A)gasket intercooler512.08.03AnozzleZCK150S840
JI Chai SJ150 Series supercharger is mainly used in generators, marine engines, matching power up to 750kw, can be a combination of multiple combinations to meet the high power requirements. The series of superchargers in many years of market applications continue to optimize and improve, its performance has been continuously improved, optional water-cooled intermediate shell for gas engines. Accessories Jinan Diesel Engine Factory 190 series ship machine use, jichai 6190 boat turbocharger, JIchai 8190ZLC Marine engine supercharger.

JIChai 12v190 Original Supercharger accessories 15053106981 Features: SJ135TB Supercharger sj158 Reliable machined impeller for higher pressurization ratio and work efficiency of the engine.

Sj160-1 runoff Supercharger sj170c2 JIChai 8190zlc-3 Diesel engine (right turn) sj168-3 A variety of compressor solutions can be selected to meet more machine requirements. G12v190zldt-2 natural gas engine supercharger SJ161TB g12v190zldt1-2 Fuyuan SJ161TBG Supercharger, Sj162zb wide flow, high efficiency, high pressure than compressor, symmetrical double-channe

A machine uses power to apply forces and control movement to perform an intended action. Machines can be driven by animals and people, by natural forces such as wind and water, and by chemical, thermal, or electrical power, and include a system of mechanisms that shape the actuator input to achieve a specific application of output forces and movement. They can also include computers and sensors that monitor performance and plan movement, often called mechanical systems.Modern machines are complex systems that consist of structural elements, mechanisms and control components and include interfaces for convenient use. Examples include a wide range of vehicles, such as automobiles, boats and airplanes, appliances in the home and office, building air handling and water handling systems, as well as farm machinery, machine tools and factory automation systems and robots.In all these machines require Casting component, Xinyu Mould manufacturing has capability to produce all casting parts of machines and the HPDC dies.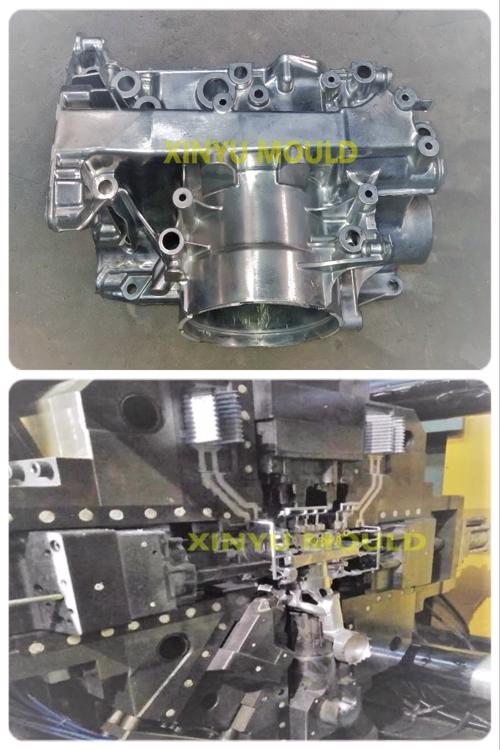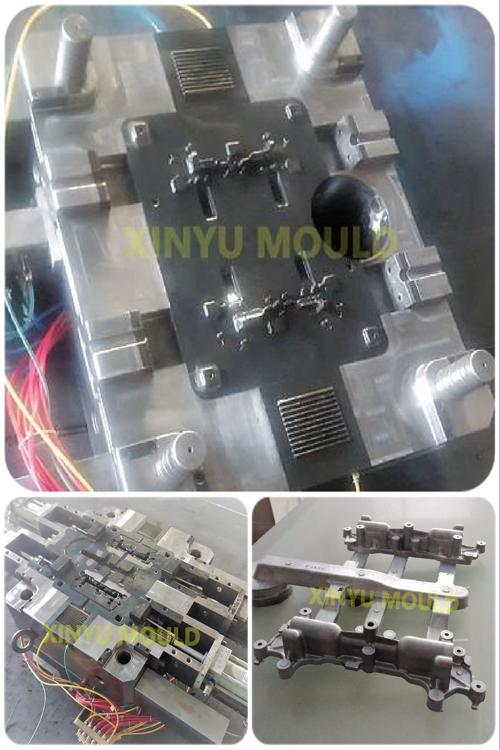 Xinyu Mould Capabilities
1.Year Of Establishment:2002
2.Location:2 (One Is Brand New)
3.Land Area:3600sqm
4.Emplyees:120
5. Equipment;CNC:18 (Makino, Toshiba, Liyang ), WEDM:10, EDM:9, Spotting Machine:2, CMM:2, Gun Drill Machine:2, Die Casting Machine:7, Others:50
Xinyu Mould Technical Profile
1. Engineers In 2d&3d: 16
2. Engineers In Cnc Programming:6
3.File Format For 2d: Dwg&Dxf
4.File Format For 3d:Iges&Step
5.Software For 2d:CAD
6.Software For 3d:Simens NX & Pro-E
7.Software For Programming: Powermill
8.Software For Mould Flow: Magma
Xinyu Mould Process Control
1.MES Process Control System
2.IATF 16949 Quality System
3.Well-Trained Operators
4.CMM Inspection
1. CAE Support Magma(Lid 18175001)
2.Rich Experience In Casting Dies For Auto Structual Parts,Powertrain;Oil Pan;Redirector; AC Compressor
3.Trial Run Machines Available In House From 160t To 1600t
4.Vaccum Venting System Application In Dies
5. Partial Squeeze Skill In Dies
6.High Precision Imported CNC(5 Axis)
7.Globalized Hr Concept
1.Max Die Size:2500*2500*1800
2.Max Die Tonnage:2500t
3.Biggest Die Casting Machine:1600t
4.Most Complex Die: 11slides
5.Yearly Capacity:350sets
1.Main Market:Na;Europe;Asia
2.Main Field: Auto;Telecommunication;
Lighting;General Machinery;Power Tool
Furniture
3.Partner Offering After Sales Service:
Available In India&Us,Europe
4.Business Involved:
Aluminum Die Casting Dies
Aluminum Die Casting Components
Xinyu Mould Commercial Terms&Conditions
1. Fob Ningbo/Shanghai
2.Payment Term:Tt
3.For Dies:50% Down Payment 50% Prior To Delivery
4. For Castings: 10% Down Payment
The Rest Within 30days After b/l Date
5.Leadtime For Quotation:2days
6.Feedback For Customers' Query:24hours
Mechanical Component Die,Mechanical Engineering Components Die,Aluminum Mechanical Component Die,Mechanical Parts Press Die Component
Ningbo Beilun XinYu Mould Manufacturing Co.Ltd. , http://www.xinyudiecasting.com